Amaia Steps Mandaue - Ready For Occupancy Condominium
Premium project of Amaia Land in Umapad Mandaue Cebu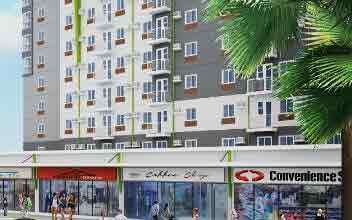 Project Type : Condominium
Listing Type : Ready For Occupancy
Developer Name : Amaia Land
Units : Studi, 1 BR, 2 BR
Price: ₱ 2,900,000 & Up
Address : Plaridel Street, Brgy. Alang-Alang,
Location : Mandaue , Cebu PH Amaia Steps Mandaue Amaia Land Amaia Steps Mandaue Amaia Steps Mandaue Amaia Land Amaia Steps Mandaue Mandaue
https://www.amaiastepsmandaue.com
Amid the Mactan Channel (also known as Opon Channel) off the coast of Mandaue City, you could find the Amaia Steps Mandaue, a mid-rise residential development. This magnificent two-tower condominium development is set to alter the landscape of this historic city. The project is one of Ayala Land's residential developments set within the three highly-urbanized cities of Metropolitan Cebu of the Central Visayan Region. One is Mandaue, an independent and classified as a first class city.

Amaia Steps Mandaue is a two-tower vertical development having 9 stories each building. The towers, dubbed as the North and South, have a total 576 units of master planned rooms with Studio, De Luxe and Premier units. These affordable units have spectacular views of the tropical settings amidst the coast off the channel.

The project is specifically located along Plaridel St. corner U.N. Avenue, Brgy. Alang-alang, Mandaue City, Cebu. This location is one of Mandaue's most recognizable locations as it is virtually near all of the city's famous landmarks, schools, shopping and entertainment centers, hospitals and other points of interest. The amenities and facilities are truly sublime and above the rest.

Popular Links
Amaia Steps Mandaue
Amaia Steps Mandaue Location
Amaia Steps Mandaue For Rental Units
Amaia Steps Mandaue Resale Units
Amaia Steps Mandaue Pre-Selling Units
Amaia Steps Mandaue Showroom
Amaia Steps Mandaue Amenities
Amaia Steps Mandaue Price
Amaia Steps Mandaue Contact
Amaia Steps Mandaue Amaia Land For Sale Price List

| Unit Name | Project Name | Developer | Price (₱) | Location |
| --- | --- | --- | --- | --- |
| Studio | Amaia Steps Mandaue | Amaia Land | 1,700,000 | Mandaue, Cebu |
| One Bedroom | Amaia Steps Mandaue | Amaia Land | 2,100,000 | Mandaue, Cebu |
| Two Bedroom | Amaia Steps Mandaue | Amaia Land | 2,700,000 | Mandaue, Cebu |